On Sunday the Republic of Ireland drew with Austria to maintain their position as joint top leaders with Serbia in the World Cup Qualifying group stages.
Ireland went into this game knowing that a win for them would all but end Austria's chances of automatically qualifying for the World Cup in Russia. It was Austria though who started off the better team, Ireland were cagey and rarely attacked in the first half. It was Austria who took the lead thanks to a fantastically worked corner from David Alaba who Martin Hinteregger for the goal.
After Austria had scored they were in control for the majority of the game. Ireland had a few close chances through corners but the keeper Heinz Lindner and full back Stefan Lainer were there to clear their lines when needed. It wasn't until the last five minutes of the game that Ireland really came to life, a long ball over the top found Jon Walters who nudged his man out of the way to scored a one on one half volley against the keeper.
Ireland were back into the game and felt like they had won it near the end, when a corner was headed onto the crossbar Shane Duffy jumped for it and headed it in but in doing so took out the man who was standing on the line for Austria. Ireland were furious the goal wasn't given, as they felt Duffy had every right to go for that ball.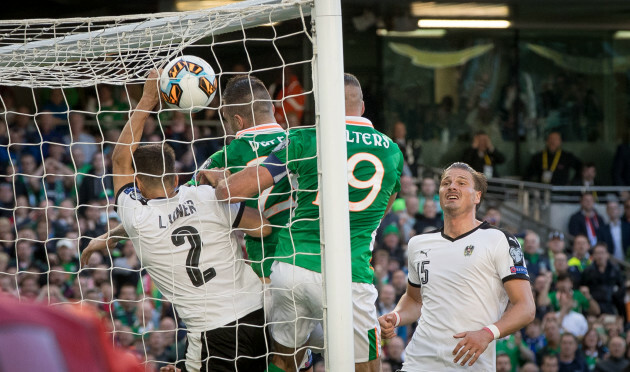 The result leaves Ireland on level points with Serbia thanks to their draw with Wales. It also means that Austria still have a chance to qualify for the World Cup in Russia, but Ireland will still be happy as the results meant that they are still four points clear of Austria and Wales, and with a great chance of qualifying for next year's World Cup.