The Champions League quarter finals kicked off on Tuesday and it saw yet another round of fantastic games.
Juventus kicked things off on Tuesday with one of the most exciting games of the Champions League so far. Unlike their last game against Paris Saint Germain, Barcelona were definitely a treat to Juventus and kept on troubling them all game. The only thing was that Juventus have one of the best defences in the competition and Giorgio Chiellini played one of the best games of his life. Barcelona could not break down Juventus in Turin, while Juventus were able to score three goals thanks to the magical Paulo Dybala and the colossal Chiellini who scored a header from a corner.
It will be far harder for Barcelona to come back in the second leg against Juventus than it was to come back against PSG. Juventus have such a good defence that Barca will find it hard to break it down, while they also have far more European experience than PSG had.
The second game that was supposed to kick off on Tuesday night was that off Borussia Dortmund's against AS Monaco. The game was then suspended and moved to Wednesday afternoon after there was an explosion on the Borussia Dortmund team bus. Marc Bartra the Dortmund defender was injured in the attack and the whole team was left shaken. If you want to hear Dortmund's reaction to it all you should watch Nuri Sahin's post match interview, it is compelling stuff. The game was eventually played on Wednesday with Monaco coming out 3-2 winners away in Dortmund. It sets up a really interesting game in Monaco and hopefully Dortmund will be able to come back after those shocking events last week.
Atletico Madrid played their home game against Leicester City on Wednesday night. It was a typical kind of Atletico game as they ended up 1-0 winners with a controversial penalty which Antoine Griezmann scored. Leicester felt hard done by but they still have a great chance at home, and they are still in with a chance to reach the Champions League semi finals. Who would have believed that after the start of the season Leicester had.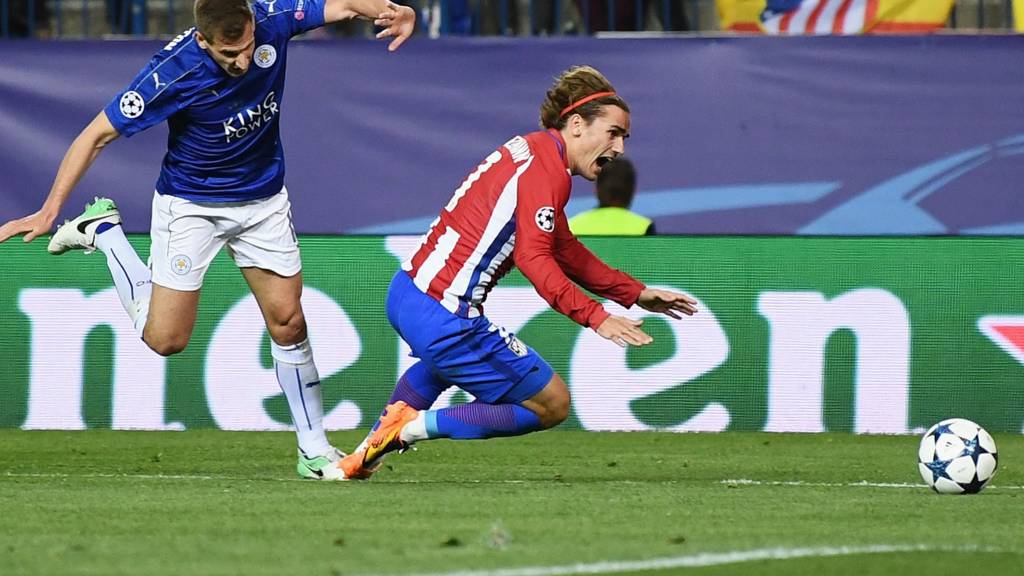 The final game of the Champions League quarter finals was a hotly anticipated match between Bayern Munich and Real Madrid. Both teams feel that they could be eventual winners of this competition and it showed, as both teams went hammer and tongs at each other. Bayern had taken the lead thanks to a Arturo Vidal header, and then had a chance to make it two just before half time when they were awarded a penalty. Vidal had the chance to make it 2-0 but blazed his shot well over the bar, from then on the game changed in Real Madrid favour. Javi Martinez picked up two yellow cards for Bayern and was sent off, and then Cristiano Ronaldo who had hardly been in the game scored his 99th and 100th goals in European competition. It means that Real Madrid are in the driving seat for the second leg, but Bayern will have to go for it having conceded two away goals so this could end up a really exciting game.
The quarter final first legs really did have everything, we all hope for the same kind of action on the field in the second legs.