What a week of Champions League Quarter Finals it has been, with Real Madrid, Bayern Munich, Atletico Madrid and Manchester City all going through to the Semi Finals.
On Tuesday night after being 2-0 down from the first leg Real Madrid came back to beat Wolfsburg 3-0 at the Bernabeu thank to a Hat Trick from Cristiano Ronaldo. It looked like Madrid might have been on their way out of the Champions League but it was Ronaldo who saved the day and proved that when he is needed he can provide the goals that will help Madrid.
The other game on Tuesday night was the game between two of the richest clubs in the world Manchester City and Paris Saint Germain. After a 2-2 draw in Paris, PSG needed to score to in order to win but a goal from Kevin De Bruyne won the game for Man City and put them through to their first ever Champions League Semi Final.
On Wednesday night came the chance for Barcelona to get to the Semis and prove that they could be the first team to ever retain the Champions League in it's current format. Their opponents were Atletico Madrid though and having got the away goal in the first leg Atletico had a great chance of still going through. Barcelona had also been in really bad form in the league for the last few weeks, and it turned out to be another bad result for them as Atletico ran out 2-0 winners thanks to two goals from Antoine Griezmann, having defended brilliantly and counter attacked with precision. While Barca looked all over the place at the back at times and could have even and probably should have had Andres Iniesta sent off for a deliberate handball they gave Atletico their penalty and their second goal.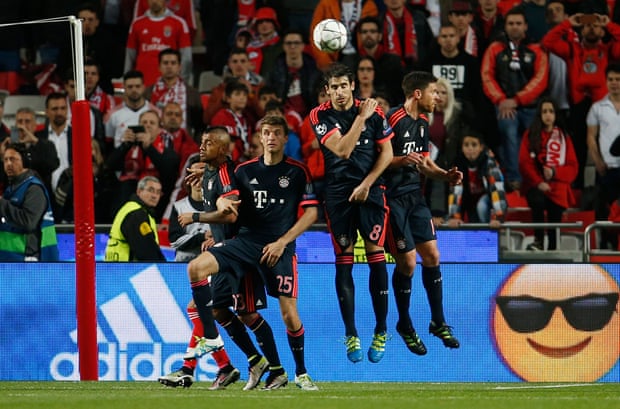 The other game on Wednesday night was Benfica v Bayern Munich, hvaing won only 1-0 in the first leg Bayern would have been cautious that Benfica could still win this tie and after going 1-0 Benfica looked like they could be about to cause a big shock. The game eventually ended 2-2 with a fantastic free kick from Benfica's Talisca.
So with the Champions League Semi Final draw being made tomorrow the Semi Finalists are Real Madrid, Atletico Madrid, Bayern Munich and Manchester City. There are so many stories that could be played out in these Semi Finals or even the Final, with Pep Guardiola possibly playing against his new team Man City or a Madrid derby. Whatever happens we are surely in for some great Semi Final games.