The silly season or the transfer window as it is known to you and me, is finally closed and it is back to the business of football. This week sees a return of international football and qualifying for the European Championship that is taking place in France next summer.
The difference between next years tournament and previous ones is that 24 teams are able to compete in them while the previous ones have only contained 16 countries. Some people have argued that this makes it easier for the bigger nations to qualify more easily meaning that the qualifying groups are quite easy and boring. The opposite has seemed to happen though as smaller nations have preformed far better than the so called bigger nations and some bigger nations are actually struggling to qualify for the tournament.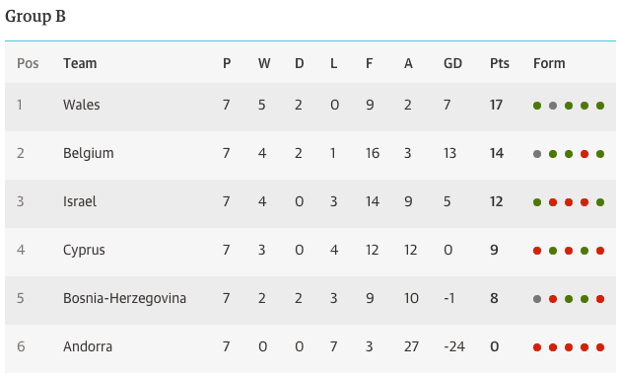 Wales who have not appeared in a major finals since the 1958 World Cup in Sweden are top of their group with 17 points in a group that contains the likes of Belgium, Bosnia and Herzegovina, Israel, Cyprus and Andorra. Wales look set to reach the Euros thanks to Gareth Bale he has been their key player in their qualifying campaign and has scored 6 goals to help Wales top their group. It helps to have a world class player in your team but Bale unlike Ryan Giggs (Wales) and George Best (Northern Ireland) who never appeared in a World Cup or Euros for their country, looks likely to help his country reach a major finals for the first time in 58 years.
Another big story from last nights international games was Iceland's win over The Netherlands. That result meant that Iceland top their group with 18 points, and with only three games remaining they are currently 8 points clear of The Netherlands who are in third place. This means that they look almost certain to automatically qualify for a major tournament for the first time in their history. Which is an amazing achievement when you hear that Iceland only has a population of around 330,000, what makes this achievement even more amazing is that as well as The Netherlands their group contains Turkey, Czech Republic, Latvia and Kazakhstan.
A penalty from Gylfi Sigurðsson secured a 1-0 win for Iceland and inflicted The Netherlands first home defeat in 38 qualifying games since they lost to Portugal in October 2000.
So although more teams can qualify for next years European Championship it doesn't make it any easier for the so called bigger countries to qualify as Iceland and Wales are proving.